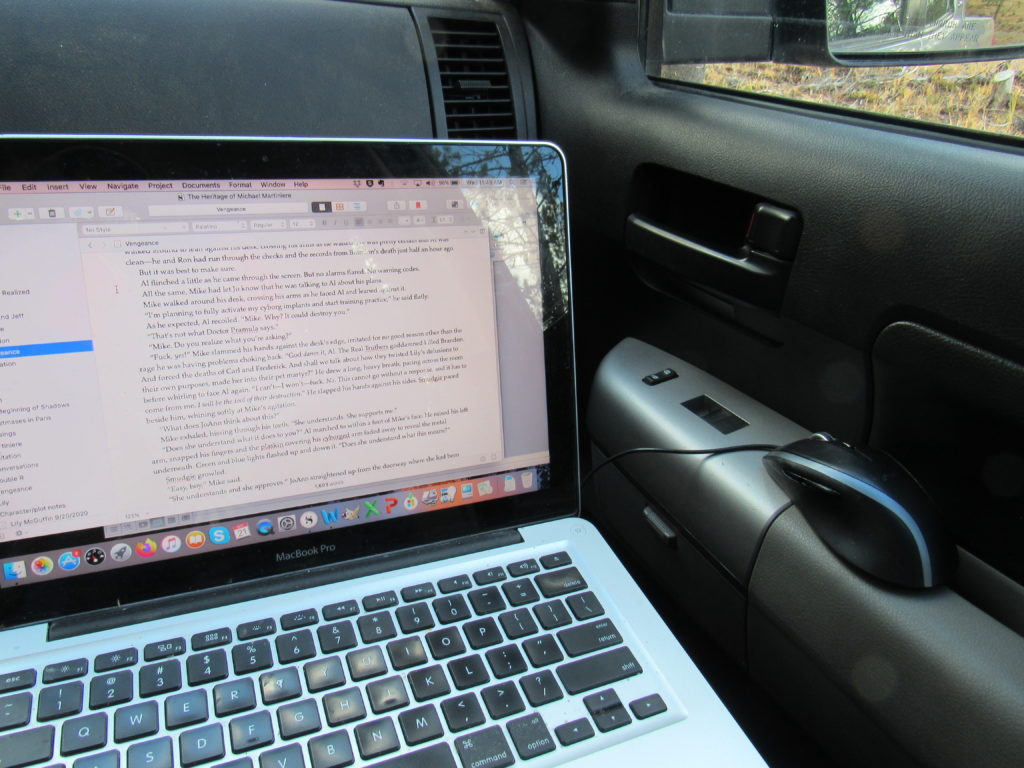 So this was the week that things kinda fell apart. Hey, sooner or later I knew I would have a bad week. I got some words down, but there were a couple of days that were more about doing other things and not getting words down. Mind you, some of those things that I did were important, after all. One day that ended up with several lengthy phone calls with husband and friends. One day of managing problems with an online insurance payment. Several days of grogginess due to body aches because of medicine hangovers.
Stuff happens. It's just the way it is.
On the other hand, I managed to get A Different Life: Now. Always. Forever. uploaded to Amazon, Draft2Digital, and IngramSpark. I made the full wrap cover for the paperback. That whole process took a big chunk out of one day, but now the book is uploaded and in pre-orders for the February 7th release.
I finished enough of Federation Cowboy to get ten episodes uploaded to Kindle Vella. It will start releasing 3x a week on Tuesday. Now I just need to get several more big chunks written so that I can focus on other things, like creating marketing plans for the year. Setting up accounts as part of my promotional plan. Planning the fantasy series, or at least beginning some sort of planning so that I can start work on it in a month or two. Fiddling with Pinterest and Post.
The Goddess's Vision books are not going to be serialized. I may change my mind at some point, but right now, Kindle Vella is for work that is partially visualized and is my incentive to get that stuff finished and out in the world. If bonuses end in March, as rumored, then it will be less of a priority. I just don't seem to have many readers there. Martiniere Stories is pretty much committed to The Cost of Power for 2023. Though I've had some interesting little twists pop up…such as well, I might end up doing more with the Zingter nanos (which will start showing up in the serial version about March). I've come up with some thoughts about just how Ruby manages to implement mind control vocals in this world without formal training and programming, and it's all tied into Zingter. Ruby in this universe may also start seeing the multiverse-traveling digital thought clones at about the same time as Gabe–and this universe's Philip becomes aware of them very early, especially the version of himself that is aggressively attacking other versions of Gabe and Ruby in other universes. And…influencing other versions of Philip to go over-the-top.
But this is more of a fanfic project (yes, I consider writing alternative versions of my own world to be fanfiction, maybe my ultimate fanfic).
Federation Cowboy is also taking some significant twists from the original plan. It's going to be interesting when I start balancing the serial work with non-serial work, because what I am really starting to like about serial work is that I can work on one thing for a while, get ahead of required episodes for several weeks (if not months), and then work on another project while letting that one simmer. I think it's actually causing me to create more meaningful work because of that simmer stage. I'll not completely leave a serial project alone–I'll go back and poke at it, tweak what's already been posted (but not post revisions, serial work is rough draft only), and let the brain chew on what I have in progress.
Having stories be drafted in a serial form with set release times is actually kinda freeing, really. I can say to myself, "well, I'm this far ahead on this project, so I can turn my focus elsewhere" without losing precious momentum. It's very interesting and different. Hit a roadblock on one project? Well, with enough of a publication cushion, I can switch out to something that needs advancing. The Substack schedule is once a week while the Vella schedule is three times a week. I'm doing much more drafting with Substack, while with Vella, I'm poking at already-written stuff that just needs to be extended into something that is at least novella-length.
With non-serial projects, though, there isn't that sense of accomplishment when I've written enough to upload for publication. I have to plug straight through the rough draft, then the first revision, then get it out to betas, then revise again.
Will I be able to do both, or will I break down and serialize the Goddess's Vision books?
We shall see.