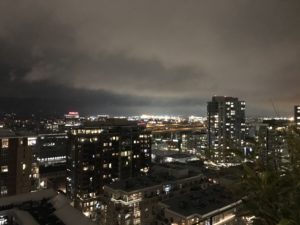 One of the things on my to-do list was to blog about the December trip to the West Side–but sickness intervened and then other things so here I am, a month or so later, finally getting caught up.
These days going to the West Side is much less frequent and much more busy for Reasons. We no longer share a garden with our friend, and there's not a lot of other reasons other than visiting friends and family to go down twice a month like we were doing for a while. Plus now we need to stay in hotels (yes, friends have offered space, but between our restless sleeping habits and allergies to house pets, those really aren't options except for the one friend). So when we do go to Portland, there's a lot that needs to happen–and that was very true for this trip. Amongst other things, I needed to replace a lost cell phone, stock up on the goat and sheep cheese and yogurt I can eat, wheat-free bread, and more. We were also invited to a friend's Christmas party, and since a lot of the husband's friends from work would be there, we wanted to go there.
The phone happened in The Dalles, along with our first night's stay. Originally we'd planned to go crabbing in Newport with a friend, but weather and other issues interfered. We might have adjusted our trip time, but getting the phone replaced was a big deal, so that happened first. The events while picking up the phone provided the overall mood of that night. It was early dark, and while I was getting things set up on my new phone (iPhone 7), a couple of weird events were happening simultaneously. One involved a family wanting to add a new line for (apparently) a boyfriend. The other was a crazy-eyed woman looking for a new phone charger that could be used in the car (instead of the wall charger she had). When she charged in the door, the tension level doubled amongst the young staff. I went on alert as she spoke quickly, then paced back and forth until she got her new charger. I have my suspicions.
Then we checked into the cheap motel That Shall Remain Nameless (but is a part of a cheap motel chain). From the very start I got a strong vibe of "weird motel" with the heightened security above what I'm used to, the stark fluorescent lighting, and the funky carpet and paint job. The room stunk of smoke cleaning product and we had to air it out for a while. Dinner at the Denny's had us next to a group of older men who were apparently local Democrats given the topics discussed. All the same, we had a quiet night with no problems.
The next two days were at our friend's place. I wrote and made jam while the skies opened up and deluged everything.
After that began the glam portion of the trip. Because our friend's place is in the Pearl District, we decided that maybe we would stay in a nearby hotel–the Marriott Residence Inn. First sign of the ritzy section was when we realized that the expensive valet parking was most likely our best option, especially since we weren't planning to drive around. The elevators required a key card to operate, and we went up to a very nice studio room with a weird and trendy shower design. No sliding door in the shower, controls at one end, shower head at the other. It worked, but was quite different. Dinner was at a nice sports bar, and we found a lovely dairy-free ice cream store with lots of stuff that I could eat. I stuck to the ice cream, but oh, the temptation.
The next day, we wandered around a little bit. The free hotel breakfast was limited given what I could eat, so I was glad I had options in the room. We walked by Title Nine, and I can report that I was a Good Girl and did not go shopping. We did indulge at Powell's, though. Pho for lunch at another excellent shop, and then back to the room to rest up for the evening event. I remembered why I went through pants so quickly on the West Side–all that walking around in wet weather. The deluge had eased a little bit, but not much.
On the way to the party we encountered others who were going, and joined the parade of folks heading up to the penthouse. Yes, it was that kind of party, and a revisit of the world of corporate life. Good food, good drinks, and lots of conversation while looking out at the city (the picture above is from the party). It was a microcosm of a certain type of Portland circle, not with the biggest names but the younger attendees could be characterized as potential movers and shakers (I overheard several discussions about whether So-and-So was going to run for office, and if so, when–including encouraging a couple of attendees to think about it).
After a while, we got tired and went back to our room. It was nice not having to deal with parking in the Pearl, much less driving.
The next day was family. We checked out, visited for a while with the son and girlfriend and kids, then checked into the less expensive hotel. After that, we went to Chinese dinner, then did Peacock Lane and presents.
The next morning was a quick stop to finish up shopping, and then we were back to Enterprise, just ahead of some weather. A few days later I got sick, and was flat on my back for much of two weeks.
It doesn't sound as exciting now, but oh well. The visit and hanging out in the Pearl confirmed our opinion that this life was just not for us. It's okay to visit, but–I asked hubby if he regretted that we hadn't bought a downtown condo at one point. He snorted and said he liked our current life much better–and I have to agree. I do prefer the quieter life, for sure.