Introduction to The Netwalk Sequence
Once there was a woman who discovered awful secrets about her origins. To keep those secrets from destroying her children, she became powerful and destructive herself, chasing after immortality to avoid her ghosts. But in living beyond death, this woman discovered those shadows had a deeper claim on her than ever.
Once there was a woman who loved a man who built war machines. Over their lifetime together, he weaponized his beautiful and terrifying wife as they sought to master the effects caused by the capture of the strange city-killing machine called the Gizmo. The powerful daughter of a formidable mother, this woman rose to political heights greater than any her mother had accomplished. But when her beloved lived beyond death, she could not endure the result.
Once there was a woman who was a dutiful daughter. She served as her weaponized mother's enforcer, mastering the wireless technology enabled by the Gizmo that allowed humans to upload personalities into the virtual world of digital life. She learned to control and work with those who lived beyond death. But this woman chose her daughter over her mother, and in doing so, gained more power over those who lived beyond death.
Once there was a woman who loved both space and the devoted assassin-in-training who had grown up with her. She took custody of the great-grandmother who had lived beyond death, forging a collaboration meant to take on worlds. But this woman and the man she loved have been targeted by the Gizmo since childhood, under consistent threat by shadows of those who lived beyond death.
Sarah. Diana. Melanie. Bess. Great-grandmother, grandmother, mother, daughter.
The Gizmo stirs as it senses the approaching fulfillment of its original purpose.
But first it has to deal with these four women, alive and dead.
Perhaps the secrets of the eldest may provide the key it needs.
Now Available:
(Listing in series order, not publication order)
Life in the Shadows: Diana and Will
LIFE IN THE SHADOWS chronicles the struggles of Diana Andrews and Will Landreth to overcome parental, professional, and political obstacles to their relationship. Can Will ever win free from the shadows he collected when designing and programming war machines for his father? Can Diana establish her own bioremediation company independent from her strong-willed, controlling mother who has behind-the-scenes political ambitions? What happens when a greater threat begins to emerge? LIFE IN THE SHADOWS includes the three previously published stories; DAHLIA, WINTER SHADOWS, and SHADOW HARVEST. New in this volume is CHRISTMAS SHADOWS, the opening to The Disruption Series.
Winter Shadows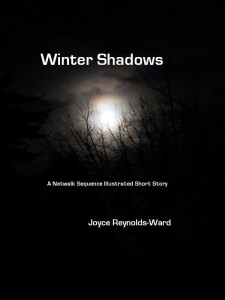 Diana Andrews wasn't expecting trouble when she came home on winter vacation from a difficult bioremediation assignment. But the imprisonment in a hostile country of her lover, Will Landreth, puts not just Diana and Will at risk but possibly her business and her family as well. Can Diana find the help she needs to rescue Will while protecting him from those–including his father–who would see Will silenced?
Buy it at: Amazon, Apple and other sources through Draft2Digital.
Shadow Harvest
A RANCH WAR OF THE FUTURE….
Diana Landreth returns home from the Amazon to discover that her dying father is being forced to sell the Andrews Ranch after an unknown biological and radiological substance has poisoned it. But her father-in-law, Parker Landreth, has designs on the ranch and tries to blackmail Diana and her husband Will into selling it to him. Can Diana and Will discover the truth about what's been done to the Andrews Ranch and use their bioremediation company to rehabilitate it, thwarting Parker's evil schemes? Or will Parker's hatred of Diana and her family triumph, leaving Diana's stepmother and young half-sister homeless? Diana must use every tool possible to save the ranch…including calling upon her estranged mother for assistance. But that assistance comes with a price….
Buy it at: Amazon and Nook, Kobo, Apple, and others through Draft2Digital.
Lucifer Has Fallen: A Disruption Chronicles Short Story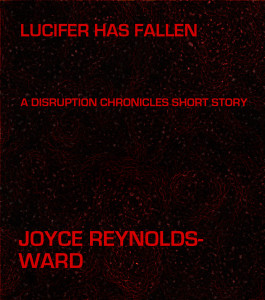 When Sarah Stephens's lover Francis Stewart starts a drunken rant about "Lucifer has fallen" in connection with the mysterious city-destroying Disruptions, Sarah thinks he's just had too much to drink…until the next morning, when another Disruption strikes and Francis is nowhere to be found.
Buy it at: Amazon
Valentine Disruptions: A Disruptions Chronicles Novelette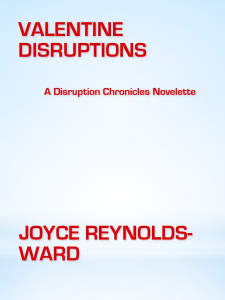 Between work, family, and national security obligations, it's been years since Diana and Will Landreth have been able to plan a romantic getaway. Now they're finally escaping…but the Disruption Machine crosses their path. Will they be able to capture the Machine and still have a romantic moment?
Buy it at: Amazon
Inconvenient Truths: A Netwalk Sequence Short Story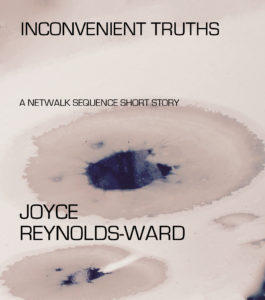 Anne Whitman's funeral reveals an aspect of Sarah Stephens that her daughter Diana Landreth has never expected to be turned on herself. What can Diana do to protect her daughter, herself, and her company from her mother's ambition?
Buy it at: Amazon and Nook, Kobo, Apple, and others through Draft2Digital.
Netwalk: Expanded Edition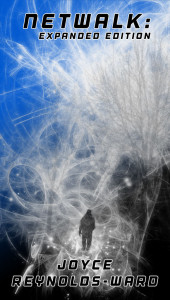 "Sarah said she had Ness Ryan working on a project-"
"Just the Netwalk stuff," Marty said.
"Then Netwalk may be an attempt to control Gizmo," Diana said. "Which means we need to control it. We need to control Sarah as Netwalker and keep Peter away from it."
For seven years, Melanie Landreth has maintained a lonely outpost in the Pacific Northwest while fighting a shadow war against the oppressive government controlled by her grandmother Sarah Stephens. Then her grandmother's death launches a cascade of events, including the discovery of a new virtual technology, NETWALK, which allows personalities to fully upload to digital life when their bodies die. As her mother Diana steps forward to wrest political power during the government collapse, Melanie must help her gain control of NETWALK–and discovers the existence of the mysterious device that NETWALK was created to control. With the help of Marty Fielding, Melanie strives to wrench control of NETWALK from opponents within her own family–and finds that she's not as alone as she once feared. But what alliances can she trust in a swiftly changing world? What is Gizmo? How can she best protect her family, her business, and her loved ones in the face of an uncertain future?
Buy it at: Amazon and Kobo and others through Draft2Digital.
With her mother Diana firmly in charge of the new North American Federation, her uploaded grandmother Sarah settled into Diana's NETWALK chip, and her ex-fiancé Liam safely dead and no longer a threat, Melanie should be able to focus upon her new role as president of Do It Right, International.  But…after a miscarriage and disastrous ski accident, Melanie discovers that Liam has also uploaded as a Netwalker.  Worse, he's somehow connected with Gizmo, the mysterious device that caused a series of international environmental and political disruptions over forty years ago that killed a third of the world's population.  Gizmo has been constrained by the Corporate Courts, the secretive international corporate alliance that is now admitting Melanie to its Executive Council.  But the price is a biological heir of her own body–and Liam, as Netwalker, has found a means to prevent this.  Plus Gizmo is stirring in dangerous ways that suggest it's breaking loose again.
Can Melanie manage to overcome the schemes of Liam and Gizmo to keep Gizmo from wreaking havoc on the world yet again?  Can she thwart Liam's schemes to keep her from having a baby and protect that baby from Liam and Gizmo?  And dare she trust her mother's secretive plans, or does she need to form a tentative alliance with Sarah the Netwalker and her estranged brother  Andrew in order to protect herself, Marty, and their child?
Buy it at: Amazon and Kobo, Apple, and others through Draft2Digital.
Netwalk's Children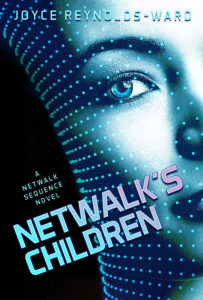 The mysterious war machine device known as the Gizmo is getting restless and trying to use Melanie's daughter Bess and her nephew Richard as a means of escape from its confinement. Meanwhile, problems arise with potential rogue Netwalkers tied not just to Melanie's past but to her parents and the original capture of the Gizmo. Can Melanie work with her estranged Netwalker grandmother Sarah as well as Bess to stop the Gizmo and deal with past shadows that threaten to dominate Bess's future?
Buy it at:

Tranquility Freeriders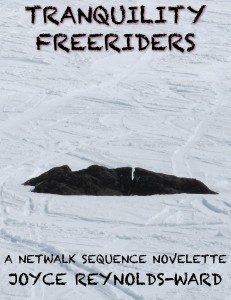 Tranquility Moonbase Chief Jennie Spenser has a problem. Not only does she have to deal with emergency transport but she has to manage some lively trainees who are convinced that skis may be the answer to her problem…including Marty and Melanie's daughter Bess.
Buy it at: Amazon, Barnes and Noble, Smashwords
Of Archangels and Fuzzy Green Mascots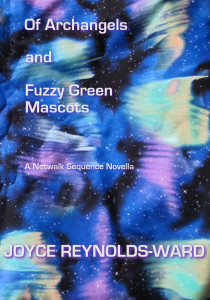 When a bomb disrupts operations at the space station DIR 1, Bess Fielding and Alex Jeffreys discover it's not just an act of ordinary sabotage but an attempt by the mysterious Gizmo device to escape confinement. Can Bess and Alex stop Gizmo and find the saboteur before it's too late?
Buy it at: Amazon
Learning in Space: Bess and Alex
Bess Fielding and Alex Jeffreys are committed to a future in space with Bess's family company, Do It Right. But that future comes with a steep learning curve in a place where the simplest mistake can be deadly…and not all those mistakes are naturally caused. Being a leader in new space technologies doesn't stop sabotage from happening, however. As one of the leading production companies in space, Do It Right can be a target for the disgruntled and the ambitious. Nonetheless, Bess and Alex learn more about space and each other, until…good times come to an end…
Contains Tranquility Freeriders, Too High to Fall, and Of Archangels and Fuzzy Green Mascots.
Buy it at: Amazon and Kobo, Nook, Apple, and others through Draft2Digital.
Netwalking Space
78,954 alien devices appear just outside Pluto orbit, with a projected trajectory that ends at Earth…and the data shows they're identical to the Gizmo war machine that destroyed ten Earth cities before it was captured and confined….
For four generations Bess Fielding and her family have led the battle to control the destructive Gizmo device that also allowed for the development of Netwalk, a digital virtual networking and communication system that allows personalities to upload at death. Bess, her mother Melanie, and her Netwalker great-grandmother Sarah have suspected Gizmo's alien origin for years.
But when a fleet of Gizmo devices arrives at the Solar System, their focus on defending against this invasion is disrupted by disclosures of dark secrets from Sarah's past. These revelations provoke a dangerous breakdown in Bess's grandmother Diana, turning her into a Gizmo collaborator. Bess and her family must unite to save Diana and lead the fight to protect Earth—but who is trustworthy? Who is a betrayer? Who gets sacrificed to stop the invading fleet? Bess, Melanie, and Sarah are in a race against time and face tough choices…that will impact those they love.
Buy it at: Amazon and Kobo, Nook, Apple, and others through Draft2Digital.
An urgent summons from her daughter Bess brings Melanie to the side of her dying brother Andrew. Andrew has rejected uploading into Netwalk–but circumstances may change that decision. What choice will Andrew make…and how does it affect Melanie's infant granddaughter Kylee?
Buy it at: Amazon, Apple, Nook, Kobo, and others through Draft2Digital.