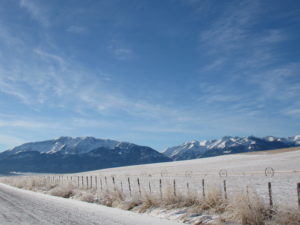 The rhythms of winding down from fall into winter this year have been rather odd. It seemed to take forever for the trees and bushes to change their leaves, and we had flashes of cold and wet followed by dry and warm (for the season).
The plants are confused as well. The tamarack (western larch) trees on the mountains changed late, and they're still holding onto their needles so that there's a faint gold glow under snow. Our big burning bush never completely changed before wind blew off half its leaves, and there's still leaves in various stages of change clinging to the brush.
Nonetheless, we have snow on the ground, and after cataract surgery, a flurry of appointments tied to the surgery and other medical needs, and a vacation trip to the Coast over Thanksgiving, it's time to settle into the winter routines.
Fog lingers late in town, while it's bright and sunny out at the ranch. The mares have settled into their winter patterns, quiet for the most part with no drama. Old Mocha waits until I've come to what she thinks is the proper distance before she begins walking toward me. The snow isn't deep enough yet that she follows trails in it, but she's in no hurry to move, either. Between hay and the grass the herd is still pawing for, she's well-fed and satisfied. The treats and grain she gets from me on a daily basis are just dessert, along with the attention she gets on a non-riding day.
Mocha slowly savors her mite of grain, just enough to add flavor to her supplement. She chews steadily but doesn't frantically grab at the grain–another indicator that all is well in old mare world. She's not ravenous. She issues occasional, contented grunts as she eats, occasionally jerking her head out of the bucket to look at something. Then back to the bucket, half-closing her eyes as she works through the pellets.
At last she's done with the grain. Then it's pick the hooves to monitor how well her front rim pads are working and check growth on the hinds, followed by a light brush to make sure there's no injuries and work out itchy spots. She's feeling good today–high noon seems to be her best time these days. After attention and final treats, I turn her loose. She visits the heated waterer, goes over to the selenium block for some contemplative licks, then back for a second drink before wandering out to the herd. No need to hurry. It may be sunny but it's still 18 degrees F, and not a time for old mares to get too snorty, unless they get cold and go for a run to warm up.
Back home again, to the foggy depths of town. Hoarfrost clings to the long needles of the Jeffreys pine. I eat lunch, and gaze at the white outside.
It's peaceful.
Slowing down.
Staying warm.
I return to my office and begin to work. Stories start to stir. Perhaps I've been waiting for this winter quiet.