So here is the promised post on the process of treating Mocha's feet, complete with pix.
To start with, I have a set of soaking bags prepared. It's possible to buy heavy-duty soaking bags, but they cost around $2.50-$3 a bag. That's a lot of bags for what I'm doing now. I've been able to cobble together a substitute using gallon freezer bags and duct tape.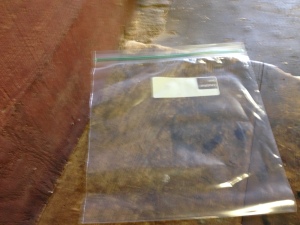 Like this.
Then the first piece of duct tape wraps around the bottom.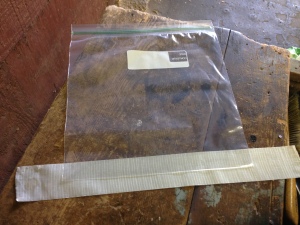 You want half on one side, half on another, to protect that bottom seam.
After that, you add overlapping layers, about three of them. You need to have some loose space at the top to tie it around the horse's fetlock to trap the gas that is created and fumigate the hoof.
Next, you mix the White Lightning with vinegar, 2 oz of WL, 2 oz of vinegar.
Don't breathe it. Insert horse hoof into bag, making sure that the heel clears the duct tape with plenty of space. Vetwrap makes a nice tie.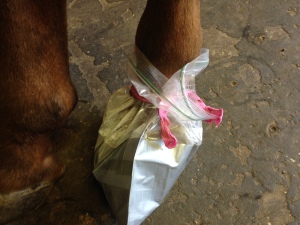 Soak for 40 minutes. You can see vapor from the contained gas in this picture if you embiggen.
After 40 minutes of bored horse standing around, wrap foot using diaper/Vetwrap/duct tape combo. Should keep working for a bit longer. Repeat 2 x 3 days a week.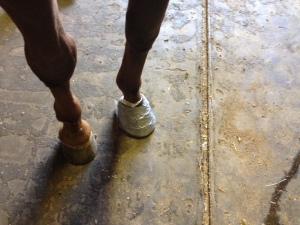 And that, in a nutshell, is part of what is occupying my days of late.