This is going to be one of those yearly summary posts–some good, some bad, some whatever. 2018 has been another one of Those Years. You know, the sort where you're flailing about at everything, trying to get things going and stuff just keeps happening…and happening…and happening. I made some book sales, found some cool new fans as well as kept up contacts with old fans, did stuff with the horse, and etc.
Not that it's been a particularly bad year…it's just been one of Those Years. Crappy moments and shining moments, all wrapped up together.
Part of the reason (besides politics which is absolutely horrific, horrible, crappy, ick, and I'm totally back in fretting about apocalyptic scenarios–well hey! I'm writing an apocalyptic book right now and the next fantasy book will also be apocalyptic in tone so I'm right on track here!) is that I think I really started kind of feeling my age this year. The area that has suffered the most has been this blog. Writing-wise, I've been chugging along, though not as faithfully as I would like. I think the sales of Pledges of Honor are finally slowing down…but I'm not going to gripe, because it has been selling steadily over the past three years, ever since I published it back in 2015. Sales still occasionally pop up for the Netwalk Sequence series, though no one really seems to go too far with it. I…have plans to do something about that.
Pledges did earn itself a Semifinalist position in the Self-Published Fantasy Blog-Off. I had hopes for higher, but c'est la vie. A review is supposed to come out for it next week from one of the reviewers.
So let's look at Joyce's Year in Writing, Horses, and Health.
Writing:
I published two books and edited an anthology, for starters.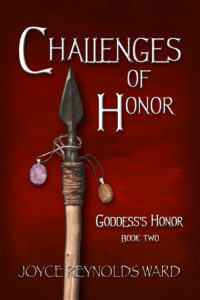 Challenges of Honor, the second book in the Goddess's Honor series, came out in the spring. It hasn't sold as well as the first book, but you know, things can change.
Blurb and linkage for Amazon here.
Linkage for Books2Read here. (Apple, Nook, Kobo, etc)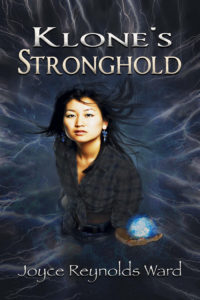 Klone's Stronghold, a contemporary fantasy featuring a mix of supernaturals, cryptids, and family issues in the isolated Bucket Mountains of NE Oregon, came out in the summer. It's not done as well as I had hoped; nonetheless I've got some ideas for a sequel to it.
Blurb and linkage for Amazon here.
Linkage for Books2Read (Apple, Nook, Kobo, etc) here.
I'm currently working on a rewrite of a previously published novella, Seeking Shelter at the End of the World. The new title is Beating the Apocalypse. It's not going to look much like the original. I've added two viewpoint characters, eliminated at least one and maybe two deaths in the course of the book (though I do kill others), am at about 20k additional words, and am making it a MUCH more complex book.
I also edited a themed anthology, Pulling Up Stakes, (includes my Oregon Country story "To Plant or Pull Up Stakes") and am working on a second one, Whimsical Beasts (which will include my story "The Wisdom of Robins").
Pulling Up Stakes Amazon details here.
Short stories also happened this year. I wrote the following Goddess's Honor tie-in shorts:
Return to Wickmasa (post-Pledges of Honor) B2R (includes Amazon), Cleaning House (post Challenges of Honor) B2R (includes Amazon), and Unexpected Alliances, B2R (includes Amazon). I've decided not to mess with loading short stories directly to Kindle but will load them into Kindle via Draft2Digital.
I wrote Going Gently for the Netwalk Sequence universe. B2R (includes Amazon).
"The Cow at the End of the World" came out in Well, It's Your Cow, edited by Frog Jones. Amazon.
I have two new stories in circulation ("A Quilter's Stellar Sandwich" and "My Woman Left Me, My Dog Hates Me, and There Goes My Truck"). I'm also marketing a novella, Bearing Witness, which is a weird alt-Western set in a universe I'm now calling the Vortex Worlds. I was originally going to self-publish it but decided to try my luck with the trad pub market so far. I'm underwhelmed, so it may go on the publishing schedule this spring.
Then I started playing around with Medium. I'm not very diligent about posting essays there yet, but I do have a few up. I'm also toying with writing a poem a week and posting it on a separate blog page. I plan to switch hosts in this coming year, and have temporarily set up a site on wordpress.com. I'll be transferring the whole domain at some point here. Just works better for me than what I've been doing.
Horse:
Mocha turned 18 this year, and is fully a mature, opinionated mare. But we achieved a bucket list goal by winning a show series buckle in the local show series in the Ranch Horse division. So I now sport a genuine, honestly-won, silver belt buckle.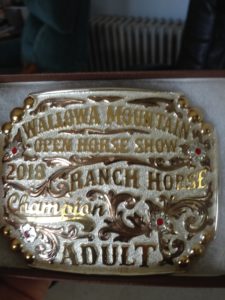 She was pastured up by the east moraine of Wallowa Lake this summer, so we spent some time riding the moraine and doing Real Trail Horse stuff. She loves it. One day she was edgy and energetic so I sent her straight up the side of the moraine (actually a fairly steep climb), with plans to sidehill it if she encountered problems. She didn't.
She went into the winter looking the best I've seen her in a long time, her back completely filled out around the spine and minimal sign of rib. Nonetheless, she's getting up there in years so I'm not pushing her. She's let me know that she really, really likes the idea of gaming as opposed to rail classes but OKAY WE WILL DEAL WITH STUPID RAIL STUFF IF THERE'S GAMING (keyhole and barrels are her favorites). As long as she enjoys the notion of "turn and burn" we'll keep doing it. We did our first winter lope under saddle a couple of days ago (it's been a not-so-good winter for riding outside) and she was full of energy, ready to go, and everything you want to feel with a mature horse living outside 24/7.
Health and Other Stuff:
This is the year that the teaching stuff has pretty much gone away. I substitute occasionally, and will be teaching a writing class in February, but otherwise–my long-term substitute gig abruptly ended at the end of the semester in January, and I've not been actively drumming up anything other than writing coaching business. I think it's time to move away from K-12 teaching–I'm ready.
This year I feel like I'm really starting to get with it in quilting. I've made two small quilts and a bigger one as well as several small wall hangings. I think I will start working toward art quilt wall hangings for the science fiction and fantasy market. Other craft work is "meh". I do have a few fans of my jewelry but not enough to put much energy into it outside of the occasional bazaar. Well…I might start trying the science fiction art show circuit again.
Health-wise, I had a real wakeup call in the fall of 2017 when I had problems hiking because my hips were too tight and I had issues. Plus I was having leg spasms bad enough that I could watch them go in waves down my right leg at their worst. Things were not good. I hurt a lot. Not the earth-shaking, major pain-killer pain, but that dragging soft-tissue coupled with arthritic pain that no traditional doctor takes seriously in a woman, especially if you can't/won't handle muscle-relaxants for the soft tissue stuff. And then there was the persistent shoulder issues.
Then I discovered a shiatsu massage pillow. That led to acupuncture and chiropractic work in addition to my regular massages because I realized part of the relief I was feeling came from adhesions getting broken loose. I also got smart about living in the world of ice/snow and bought hiking sticks and Yaktrak shoe chains to reduce the risk of falling (still happens but not as much). I started using a neck pillow for any drives over two hours. Additionally, I started using CBD and THC topicals, as well as oral CBD. Things aren't perfect, but I can move again. There's one troublesome spot in my right hip which has plagued me for thirty-eight-some years, thanks to a fall while jogging, but it's much improved from what it's been over the last ten years. What's even more encouraging is that I have the urge to move again. I want to work out. My muscles are tight on a three-day cycle, but it is absolutely not the same sort of thing as I was experiencing before.
I've also gone back to using moisturizer and makeup. Part of it is that I have an excellent source of mineral-based makeup here in Enterprise–Wild Carrot Herbals has their company store here (as well as their warehouse/manufacturing headquarters) and they carry a nice line of makeup. I went back to my favorite Elizabeth Arden Ceramide-based moisturizers and foundation. It really does make a difference, and the moisturizer holds up to a lot of winter weather. I do need to find something different for hot summer days, though….
In any case, it's been a year. I'm hoping to be more energized in 2019–if anything, that's my goal for the year ahead. I want to advance my writing, perhaps expand my craft work into art shows, and otherwise.
I'll probably put up another post about 2019 goals tomorrow. We'll see.