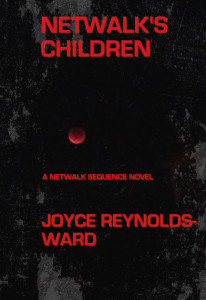 Poor Netwalk's Children. I think it's the best book so far of the Netwalk Sequence, but it's getting hardly any attention. Some of that is possibly the cover; more might be due to the difficulty of finding a good category to put the story in. I know that there are readers out there who would like the story. But where to find them, where to find them…especially through keywords!
One of the challenges is that the story is a cross between cyberpunk and multigenerational corporate family sagas. The cyberpunk aspect has to do with the nature of Netwalk and Netwalkers and their interface with the gadget not-so-fondly known as the Gizmo, a war machine of mysterious origin. The Gizmo is controlled by an international body known as the Corporate Courts, a legacy from the somewhat dystopian period of the mid-21st century when the government of what once was the United States went through multiple upheavals, the Middle East became the Petroleum Autonomous Zone (no, I've not written that story and I'm somewhat afraid to go there….). One of the Corporate Courts's functions is the promotion and development of space colonies and space stations for various reasons, including industrial development as well as expanding human residency in space. Think of it as a means of providing an off-Earth governing body.
The multigenerational corporate family saga piece is that we see the social and political organization of this particular world through the eyes of the female corporate leaders of one family, the Stephens-Andrews-Landreth family. With Children, we enter the fourth generation of the story, with three generations alive and two digitally uploaded after her death. The uploaded matriarch, Sarah Stephens, knows a lot about the Gizmo and its ultimate aims, and doesn't trust the damn gadget as far as she can throw it. Her son-in-law William Landreth, late husband to Sarah's daughter Diana, is also an uploaded Netwalker and his opinion matches Sarah's. However, Diana doesn't necessarily agree with Sarah, which causes a problem since Diana is also Sarah's living Netwalk host (Netwalkers need live hosts to recharge and stay sane). The connection between Diana and Sarah has been fraying for years but everyone's been willing to work around it until now.
Will and Diana's daughter Melanie, who is the head Enforcer (those who police and manage Netwalkers and their hosts) and also president of the family bioremediation/Netwalk chip producer company Do It Right (Netwalk grew out of the development of wireless communication with bioremediation nanobots and drones) has a lot to manage. Years ago she split with the Corporate Courts, maintaining links only through the High Space Treaty that controls space development and travel, because of the Gizmo's effect on her daughter Bess. One of the mandatory elements of Corporate Courts leadership is exposure of their children to the Gizmo in order to improve and facilitate linkages with Gizmo resources including access to Netwalk, as well as bond them to the goals of the Courts. The Gizmo took a strong dislike to Bess and tried to kill her as an infant. A similar but less dramatic event happened when Melanie's brother Andrew exposed his son Richard to the Gizmo.
Meanwhile, Melanie and Andrew have a contentious past history, including the two of them nearly killing each other in the early days of Netwalk when Andrew was possessed by the uploaded personality of their uncle Peter. However, since they've both become parents, they've been cautiously rebuilding their relationship behind closed doors. Publicly, they've not been allies. Privately, well, they aren't best buddies but the connections have improved.
So that's the backstory. In the book, the Gizmo starts manipulating people to break free from its restraints, focusing on Richard (Rick) as its tool to get to Bess and use Bess's strengths. Melanie and Andrew make their new alliance public and find a new ally outside of the Courts. Sarah and Diana have it out and Sarah cultivates a relationship with Bess, who she wants to have as her new host.
POV characters are Sarah, Melanie, and Bess. With the addition of Bess we get a YA-type character but the book isn't necessarily YA. So this is a mess of genres, and I'm trying to find the best label for the whole dang thing. "Cyberpunk" doesn't necessarily cover everything that's going on in the book. "Multigenerational family saga," however, isn't necessarily the first thing one thinks of when looking at cyberpunk. I guess I'd probably pitch it now as "Dallas meets Cyteen" but that still doesn't give me a label. One friend suggested "regency cyberpunk" or "cyberpunk regency," but then that has way too many echoes of steampunk, as I've discovered when trying out the label on other folks.
Dang. It's a dilemma, for sure.