It's not often that I get time to go out and about in late October/early November, which is sad. In my opinion that's one of the nicest times to cruise through the east side of Oregon, but…don't often get the time to do it.
Not so this year. We had November 1st off, DH found a Groupon for a Bend-area resort–so off we went this weekend for a belated birthday celebration.
Friday was stunningly gorgeous, in a late fall East Side way.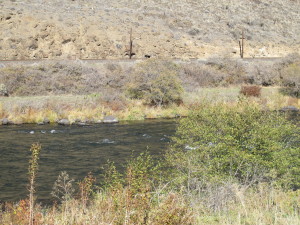 It didn't start raining until early in the morning. We went cruising up toward Bachelor, but the snow got a bit intense. We retraced our tracks to the Swampy Lakes trailhead and went hiking in about 2-3 inches of snow, with 4 inch drifts.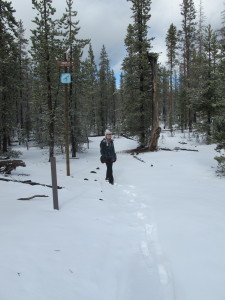 We hiked nearly 4 miles. Combined with about 1 1/2 half miles on the Deschutes trail in the morning, we did pretty good.
Then, today, on our way back to Portland, we headed out through Mitchell and cut back through Condon and Wasco. Saw some nice stuff there, too.
We also discovered this cute little pioneer park.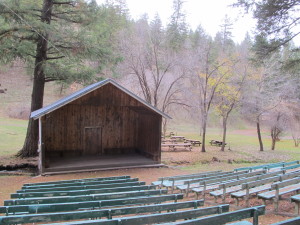 Amphitheater and stage on both sides of the creek, a smaller stage facing the picnic area. Very cute.
We also saw the critters–wild turkeys in two places, including a flock of over 100; deer, elk, grouse, various raptors, and a bald eagle (at least one). A nice break was had by all.
And now time to push on to Orycon, Nanowrimo (though I'm continuing an existing work project), and other stuff. I've been poking at Scrivener and I have some project ideas incorporating pictures for ebook and CreateSpace chapbooks.
Contemplating it, anyway. Might not happen for a few months, but…had fun taking pictures for some of the projects.