As this summer that just won't die winds down, it's been a good time to not be driving forty miles one way to work. Between smoke from the big Estacada fire and the heat (I can just imagine how hot my classroom would be getting), I'm grateful. It's still taking time to recreate structure and routines, but I'm getting there.
We did a flying trip to Farpoint for grouse hunting and house business this weekend. DH ended up with a bad attack of food poisoning which was really nasty; mine was thankfully much milder. Nonetheless, the two of us were healthy enough to go on one of those long all-day hunting drives out toward Hat Point with a friend. It had been at least twenty-four years since we had been out there; nearly thirty for our friend.
Hat Point is not necessarily an easy drive, even with a four-wheel drive rig. The road has improved by quite a bit so that it's feasible to take a passenger car out there, but it is still a rugged gravel road with some long single track passages winding up steep canyon walls.
Like this:
Not the best pic. Basically, that line between the burned and unburned canyon wall? It's the road. There's about five miles like this early on, and there's always a possibility of encountering trucks with trailers carrying wood or horses. That can make life somewhat exciting. However, the road was significantly improved from the last time we had driven it. Much more gravel, but it's still going to be iffy there because of the big fire in the Imnaha canyon this summer. You don't get burns like this above and below the road without risking some nasty washouts in the rains.
But it wasn't all fire at Five Mile Viewpoint. I also got a few stunning pix of the Imnaha River canyon.
Though my best pic was from Granny View, further along.
And then there was Hells Canyon and Hat Point. The road has been redesigned so that it ends at Hat Point with a nice picnic area. You can climb sixty feet up into the lookout tower, which gives some stunning views of Hells Canyon, Snake River, and the Wallowa country…or it would if there weren't a few fires around.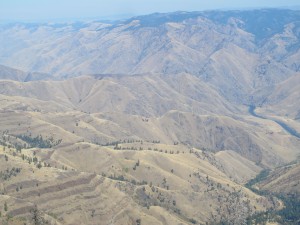 Pictures–Hat Point fire lookout tower–I hiked 60 feet to that platform. Easier than the Arc d'Triomphe, even at 7,000 feet. We spotted several jet boats and rafters cruising down the Snake River, though it took binoculars to pick out the rafters.  The others are pretty much self-explanatory.
On the way back, we went out to Cyuse Flat (no, I don't know why the "a" is dropped but that's the usage). Friend and I hiked it to kick up grouse, plus we investigated an old barn and line cabin. Gorgeous stuff, but way too many pix. I got some good pix for later writing reference. But here's a shot of Cyuse.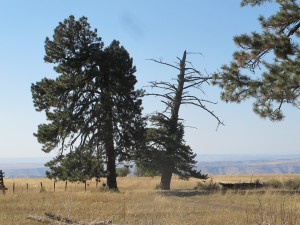 It's a big, wide flat on top of a long ridge, full of native grasses and some introduced timothy. We poked around an old cabin and barn and I got lots of pix. Gonna be writing a lot of cross-genre spec fic stuff with these pix. Breaks my heart (not!). This is pretty typical country for this area, high elevation pasturage that gets snow in the winter.
On the way back home, we kicked up a small herd of elk just above Five Mile Viewpoint.
They weren't particularly worried about us, though they didn't hang around, either. After that, friend and I bushwhacked down a draw and shot four ruffed grouse.
On Sunday, we primered the molding around the new windows, visited with a friend, then drove home. Quite a full weekend.