Well, yeah, the WordPress site had problems. Long story short, for various reasons including cost, I've switched hosts and we'll see how this does for crossposting to DW and LJ. I still had LiveJournal access and put up a few posts there, but it wasn't what really worked well. I'm debating about posting the last "Daughters" story this month or waiting until next month and calling August a draw. But that will give me some breathing space on Netwalk: Foundations stories because I've just about got enough ahead to last for the rest of the year.
There's a lot of other stuff going on writing-wise, but I can't talk much about it yet–some of this is contractual, other parts are in very early development stages. If I can pull this all together, then let's just say that Good Stuff Is Happening. And…cover squee!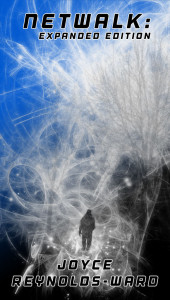 Yes, Netwalk: The Expanded Edition will be going live soon!
Besides an updated Netwalk (to include the Gizmo additions), I've reprinted two previously published Netwalk Sequence short stories ("The Ties That Bind" from Random Realities and "Cold Dish" from M-BRANE SF 9) as well as added two more short vignettes tied into the first two chapters of Netwalk in this expanded edition. As I've said before, this is the only time I plan to do this significant a rewrite and reissue of something already published, and the main reason I'm doing it is to insert some major series material that I developed in the second book.
Netwalk Expanded will also be available in trade paperback through Createspace. It was only available in ebook format before. I do plan to have all of the main Netwalk Sequence novels available in both ebook and trade paper from now on, but any novellas or short stories will be in ebook format only, though I will probably do some collections later on.
One project I can talk about is that I do plan to print a collected edition of some Netwalk: Foundations pieces in ebook format this fall. I plan to issue a collected version of The Daughters Cycle and a serialized Foundations piece, Problems at the Andrews Ranch for late fall Christmas sale.
Meanwhile, in other areas, I've finished my summer classes and am now getting ready for the school year.
Mocha is doing well, though we discovered a training hole that I'll be writing about later (going downhill with a rider). The problem-solving around that is interesting. I've finally found the right stuff to treat her hooves with, and she's showing much improvement. We're gearing up for a show in late September, if everyone stays healthy and sound….
On that front, I bashed my foot pretty badly last week on a bedpost. It was a L-brace that I whacked between my fourth toe and my big toe. The picture is on Facebook, I won't subject folks to it but suffice to say the colors were interesting. I don't think it's broken but now that the swelling's gone down, there's definitely been a significant strain to my tendons and ligaments. I've whipped out the Vetwrap (I wish, it's actually the boring taupe human version. I'm planning a tack store visit for something cheaper and more colorful tomorrow) to bind it for support. Otherwise the tendons/ligaments ache worse. With school starting up next week, I've got to be able to walk soundly so I don't bung up my hips. Again.
Growing old ain't for sissies, but it sure beats the alternative. 😉
We're at the stage of summer now where evening cooldowns are more likely. Cricket summer. My favorite part of the season.
Anyway, onward to working on stuff. Let's see how this baby posts.