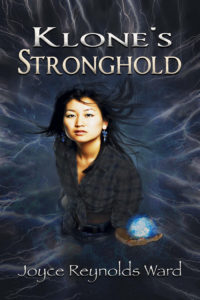 Back when I was in junior high, I discovered that someone else shared my first and last name (but thankfully not the middle name). Since the other Joyce had a propensity for getting into trouble, I started using my middle name at school and other kid activities. But it wasn't just a simple use of my middle name, Marie–I used variants of my name such as J. Marie, Marie J., Marie Mary, and so on.
That pretty much continued from 7th through 12th grades. Then the other Joyce and I took different routes, with only occasional confusion between us (there was yet another Joyce, an insurance saleswoman), such as the time the other Joyce had a baby with an ex-brother-in-law, and people got confused because they thought it was me.
So I tend to be a bit blase about people using multiple names for themselves. That hasn't caught up with me until Klone's Stronghold. Reeni and her uncle Jayanesh exhibit the same casualness about Reeni's real name, which is Marie Irene. But it gets flipped around by Jayanesh and Reeni herself. I thought about correcting it when working on the final draft, but decided to let it stand because I wanted the usage to make a statement about Reeni's confused identity. From Jayanesh, it shows his contempt for what Reeni truly is. From Reeni, it reflects her own confusion about her identity. It also gives me an opening to explore just why Reeni flips her name around in the next book–I could have put it into Stronghold but it just didn't fit.
However, when I start work on Book Two next year, I intend to work with this concept of identity a bit more.
I promise.