Interesting lessons learned from doing the photo shoot yesterday:
1.) Moving water closeups get blurred unless you have a rill of whitewater for the autofocus to work (I wasn't playing with apeture/speed settings, could have but I was trying to get in, get shots, get to work).
Example: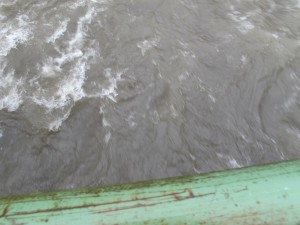 2.) Framing through trees can be hard:
(actually, this one isn't too bad)
3.) But sometimes the magic works
4.) During big weather events, pack the damn camera!
I could have gotten much more impressive shots than this:
Last night I was standing on the bank about thirty feet behind those sandbags in the picture above, with the river up about a foot higher.  I had permission then; I didn't have permission in the morning.
Following this Sandy River flooding story is…interesting.  Thinking very hard about it.  It's a shallow glacier-fed river and the biggest impact on flood levels during the winter is the freezing level up on the Mountain.  A combination of a Pineapple Express weather event, sizable snowpack, and freezing level retreating up the Mountain means a lot of water gets dumped into the river.  The river bed is gravelly and sandy (ergo, "Sandy River," as William Clark dubbed it) so it's not inclined to stay in its bed.
Meanwhile, after last winter's disastrous floods, there's rumors of scandals in the wake of flood restoration and repair.  It will be interesting to watch how this shakes out.