This Mother's Day, I got up at 5:30 am, had some yogurt and almonds and an energy bar, hopped into the car with DH, and went skiing.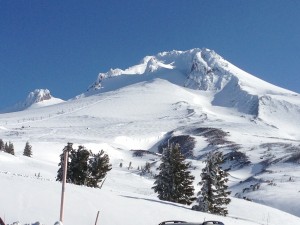 Yeah. Lifts opened at 8. But the temps had dipped into the high 20s and stuff had iced up weirdly. By the time we went through our usual prep (plus me getting a coffee and! bacon!), the snow was just right. A little soft with hardpack underneath.
The catch was that the Magic Mile wasn't open yet. Still in storm recovery mode (and one does not diss the gifts of Ullr and Skadi  at this point in the season; yea, even though it may cause Perfect Run Issues). So we went for Stormin' Norman. Whereupon we discovered this:
at the top of Norman. Essentially, there'd been a freestyle ski movie conference at Timberline, and that is what they made for it.  Then, when I saw where the takeoff hill for that set of jumps was, um, yeah. Pretty intense. It's about halfway up the Kruser line on the Magic Mile, which means that it's built for speed. Given the airs I saw on Facebook links from that conference…yeah. Fast and high. That's what you need to get those big multi-revolution tricks. It's as much of a science as a ballet pirouette. Trickers spot their turns just like dancers do. Eyes-shoulders-hips-feet. It's a graceful sequence to watch on video, but in slow-mo you don't always get a sense for how fast the freestyler is going in real life.
Anyway. Enough ski geekery.
I got up to my old pre-packed out boots, pre-fall speed. One of the beauties of Norman when it is relatively quiet is that you can have a nice side-by-side run, and for once this season I dang near passed the hubby. Mmm. I think I like my boots, at last. It's taken a year to break them in, but now I've found their potential.
Back in the groove again. Feeling the flow of the fall line. Finally, damn it, after struggling with boots and injuries and stubborn aging body.
About time.