Yesterday morning was a perfect illustration of Timberline's dual nature.  We started out in the trees, with conditions like this: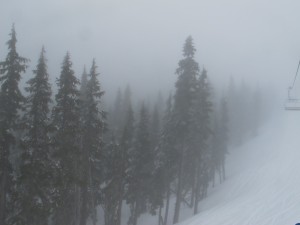 Annoyingly I had to stop and wipe my glasses every fifty yards or so.  While my goggles had been great all season, yesterday, they….weren't.
Then as we got off of Jeff Flood after our third run through the trees, we spotted what looked like a clearing trend up high on the Mountain.  So we hopped on the Magic Mile and went up, to this:
The Palmer chairlift is now open, so I convinced DH to give it a try.  Palmer is the highest lift on Hood, and it's a black diamond–as much for the elevation and lack of trees as the steepness.  Here's a look:
We skied down Palmer twice, taking our time and going slowly.  For one thing, it was steep, for another, it was pretty cut up.  But we did well, though DH hit a patch of snow and his ski popped off at one point.  Still not sure how that one happened, but it was on a flat run so not too bad.
Our Palmer runs were a lot like our early runs on the Mile–slow, careful, with breaks to ease the legs.  When you ski slow and under more control, that's more fatiguing than skiing fast.  But neither one of us were really up for a fast mile-long run, especially one like Palmer.  Nonetheless it was gorgeous and in the sun, while everything else was fogged in.
And then we came home, rested, then went to the DH's thirty year award banquet.  On the way home, we spotted Reed College's Renn Faire fireworks so we stopped to enjoy those.  A lovely end to a lovely day.
Today is a light day.  I could have gone to the barn, but I wanted to do household chores and get back to work on the Netwalk stories.  Friday, besides watching over the son here at home, I got my MS together and out for the Angry Robot open call, and then sent out all the short stories that have been accumulating since the last big submissions flurry.  For the moment, everything marketable is now out.
So I've planted my flowerpots with pansies, cosmos, begonias, lobelias and petunias.  Several leftover petunias got stuck into filler positions around the flower beds.  That's pretty much all of my flower planting for now since I planted the rest of the nasturtiums and sunflowers on Friday.  The California poppies, sweet peas and first nasturtium plantings are cruising right along.  Looks like we'll have edible pod peas by the end of May.  The apple trees appear to be setting fruit (except for the baby Yellow Transparent) so we should have some nice apples this year.  Despite the craziness, we do appear to be on track.
Onward now to rearranging office and getting to work on Netwalk stuff.  It's been way too long.