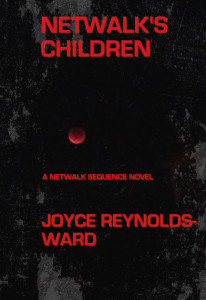 At long last it's here! Netwalk's Children is live on Amazon, iBooks, kindasorta on Nook (there's a page link but the dashboard says it's still in progress), and it's in progress for Kobo and some other sites. I'm really happy with this book because it came out pretty much like I wanted, and I think it makes a good transition into the last part of the series. We're getting away from Melanie's point of view and into that of Bess and Sarah.
So what's it about?
The mysterious war machine device known as the Gizmo is getting restless and trying to use Melanie's daughter Bess and her nephew Richard as a means of escape from its confinement. Meanwhile, problems arise with potential rogue Netwalkers tied not just to Melanie's past but to her parents and the original capture of the Gizmo. Can Melanie work with her estranged Netwalker grandmother Sarah as well as Bess to stop the Gizmo and deal with past shadows that threaten to dominate Bess's future?
There will be hard copies available at Orycon, and the Amazon listing includes hard copy as well as Kindle editions (I've also enabled Matchbook which means you can add on the Kindle edition to a hard copy purchase for a minimal amount).
Technical means aside, this is the first time I've worked with Draft2Digital and I like it much better than GooglePlay. I'm submitting fully formated epub to Draft2Digital, though I could just submit a Word file and let them format it. I'm liking the experience so far….
This is also the first cover that I completed entirely on my own, with a little bit of advice from my son. I'm rather proud of that, though the one for Pledges of Honor makes me even happier. My personal perspective is that this book's the best one of the series so far…and I sure hope it takes off and sells well.
One more Netwalk book to go, and then I'm pretty much done with it for the time being, I think. Netwalking Space should come close to wrapping up the series loose ends, though I could see a far future sequel. We'll see what happens. Meanwhile, I'm ramping up the Goddess's Honor fantasy series, and the Oregon Country series is getting built and formed even now.
But today belongs to Netwalk's Children. Happy book day to it, and may it do well.