I've not been blogging a lot lately. Some of that is due to life circumstances–busyness, active work on creating some new options, surviving at the day job, horse stuff–and some of that is due to actual writing.
Well, maybe not so much of that this month. But there have been revisions and wrangling with software for e-publishing things, as well as thinking and planning for marketing work. I also have two side nonfiction projects that are in a development stage–mostly memoirish things that require regular notetaking.
Winter has also been somewhat delayed until the past week. We went skiing yesterday, and for the first time, it actually looked like winter ski season at Timberline. The Cascade snowpack has been at 49% of what it should be; that should change significantly due to the storms of the past week and the upcoming storms next week. Yesterday's ski session was good, but I'm definitely noticing a mental hangover from last year's crash and the difficult time with boots. I'm skiing more cautiously and tentatively. I asked the husband about it and he noted the difference. However, with this last bout of snowfall, I think I can make it worth my while to now plan to get in at least one day of skiing during the week–just getting time on the slope will get me past this phase.
The good news is that the Dalbello boots and I are finally clicking. They're a stiff and tough boot to break in, but breaking in is finally happening. One reason for my tentative skiing is that I'm learning these boots. They are a very sensitive and reactive boot, so I have to ski with a firmer touch. Yesterday's deep Cascade concrete–heavy, wet snow piling up steadily–also called for a more upright, backward balance to keep my tips from digging in and tripping me, and it was the first time I'd skied this boot in these conditions. On the other hand, the conditions also led to a rather cool moment where I pointed my skis straight down an ungroomed slope (last 200 yards of the Mile, transiting over from Norman), rocked back a little bit, and just bounced down the slope as if I were sledding on the skis, no turns. The boots floated nicely with my feet, good and stable, with solid support. I maybe saw my tips every few bounces–about a good six inch depth in places. That was definitely a "whee!" moment.
The other thing I noticed yesterday was that there were definitely moments when, with less experience and a softer boot, I would have gone down. Nonetheless, I'm happy to figure out that these boots really do work, and what I need is just many days on them to get myself in tune with the Dalbellos. I think I have spring skiing plans….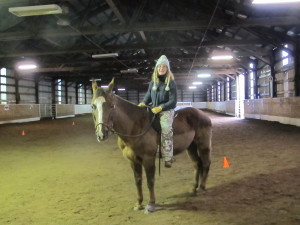 And then there was après-ski with Mocha. We have to scale back on our work–she's tweaking something and coming up sore, as in okay at the start of the work but sore as we stop (all walk work, either long line or bareback, happens in long line mostly). I suspect it's either the weight of the shoe, or breakover from the foot growth. I've also been using side reins set for a snug collected frame when ground driving, and I think that's another factor. So we're going to back off of the more collected and elaborate work, and go with looser side reins.
A greater concern is that I've been watching her hock movement as we ground drive, and I'm really not thrilled with what I am seeing. Much contemplation here.
Anyway, onward with the day.