Jay in my lap at Norwescon 2013, with Kelly (Jude-Marie) Green in the background
My brain keeps nibbling at the fact that Jay is gone. I knew, we all knew, that this was coming. No one gets out alive and all that stuff, and Jay's diagnosis meant that his time was coming like a lightly loaded freight train on a downhill track. But the brain still keeps kicking up thoughts and remarks and…well, all the stuff that comes up when you think of someone who's been an important part of your life.
Not closely personal. Jay and I never went there; for one thing I'm quite married, and for another, despite his hugely wonderful and welcoming self, we were two very different people in areas which were important to both of us. I'm outdoorsy, active, and I play with guns. Jay and I talked about that quite a bit, but those differences would have been a huge difference between us. Also, even though I've currently walked away from faith, I still have an underpinning belief in Something out there which Jay lacked. Nonetheless, we had a delightfully fun and scintillating ongoing conversation about life, writing, and politics.
Actually, a discussion about faith was part of our first meeting. While I'm sure I encountered Jay in the con world before, it wasn't until Potlatch 2007 that he and I sat down and became friends. I had decided to resume my off-again, on-again writing career and had at least one story burning through my fingers. The old Orycon concom crew was running Potlatch that year and brought me in as a minor volunteer. I'd heard of Jay before–a year or so earlier, I'd read Rocket Science in the capacity of an Endeavour Award first reader. We chatted, he politely propositioned me, I politely refused, and we continued to talk, late into the night. There was quite a cluster of us up in the top floor bar those two nights.
From there, I ended up joining Fireside Writers in its heyday at the Fireside coffee place on Powell. Nearly every Tuesday, I joined Jay and a pack of other writing people to pound away on our stories. After a certain period of writing time had passed, we moved on to dinner, usually at the Barley Mill but sometimes other places. Lots of talking about writing, career planning, more writing, and other stuff. Jay frequently took possession of a large, comfortable recliner. He cranked out words to the degree that the chair was somehow viewed as magical, and when he wasn't there, we vied for the choice of the Chair of Many Words. One day, while working on what became "In the Forests of the Night," he started asking who wanted to be in a story. One of the other writers volunteered and he wrote her in. A few paragraphs later, he asked for a second volunteer, and I stepped up. So I got written in as Ward, in the opening pages.
That's what life was like writing around Jay. I learned how to write in a coffee shop by writing with him. Before then, I really wasn't that great at writing in noisy, public settings. But by following his example, I got better at it and now, well. I grab moments in coffee shops, especially with my current work commute and all. Working at the same time, in the same place, with Jay was an education in and of itself in the nature of writing. There was focus–but we could also stop to discuss a challenge with the work. Above all else, we got infused with the spirit of the man's psychotic persistence.
Psychotic persistence was Jay's own term for his writing success, and when you look back over his career, it rings not just in his writing but in his battle with cancer. Cancer may have ravaged and attacked Jay, but by god, he turned around and battled it right back with the same spirit of psychotic persistence that propelled him to his stand in the speculative fiction writing world. It stands to reason, I guess, that he was felled by the sort of cancer that equaled him in psychotic persistence, something that was extremely aggressive and intractable. Even though most of us hoped that Jay would prevail, well, the big C won this one. But it was a no-holds-barred, all-out war.
That doesn't mean the man didn't have fun and didn't bring fun to the people around him. The pranks we pulled at Radcon during the Radcon Bob era, including the cycle of pranking between Jay and Bob, were epic.
When I heard of Jay's death on Sunday, I commented that the world is much smaller now. That is so very true. At the 2014 Norwescon, in the bar, we kept anticipating Jay's arrival, even though we knew he wasn't going to be there. I suspect that there will be many, many Orycons where we will keep thinking of and looking for Jay as well.
Jay kept giving. One of his last public appearances was a speaking engagement to my reading intervention classes. I'd had the kids read and respond to one of his posts about kindness. So he came up and shared with the kids. It is always hard to tell about kids as to whether the impact someone makes is large or not, but I think it stuck.
There is a Jay-sized hole in the world now. Eventually, those memories will ebb and the loss will feel less severe. But it is a loss, nonetheless. I am pissed at losing yet another friend to cancer, and I'm pissed that I won't have more time to talk about writing, politics, and everything else with Jay.
Before we moved due to the closure of the Fireside, Jay was working on both Kalimpura and wrapping up the Clockwork trilogy. He was beginning to talk about Sunspin and the challenges of going off of a contract to write it. At the last JayCon, some of the cover poster boards made up for the Clockwork and Green books were raffled off. Thanks to Bob, I won the boards for Endurance and Kalimpura. I gave Endurance to Bob but, despite Mike Moscoe's attempt to persuade me to trade for Green, I hung onto Kalimpura. At first I thought it was just because I liked the subject, but now I realize I wanted that poster because…well…it represents something that was part of my early writing life and the role Jay played in this latest manifestation of my writing life.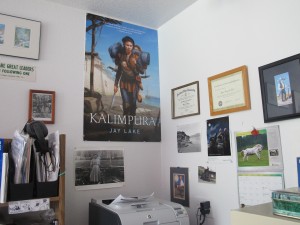 Goddamn it, Jay, I'm going to miss you. Shine on. You will be remembered.