After a tumultuous last few weeks, we took some time away to cruise up the Lostine River into the Eagle Cap Wilderness. I've been wanting to go up there for some time, and it's close enough for a short afternoon drive. So DH and I took off about 1:30 and headed up the river. We hadn't gone far before we spotted a small herd of elk. No bulls except for a single spike.
Then we gained altitude, until we reached the Lostine River Canyon overlook.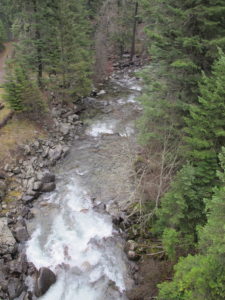 We drove almost to the end of the road, deciding that we need to come back during other seasons to learn more about this part of Wallowa County.
On our way back, we checked out a state wildlife refuge. It's a winter feeding ground for deer and mountain sheep. We parked and hiked up a road to gain some stunning views.
And while we didn't see any mountain sheep, we saw four deer, including this guy.
A nice day all around, especially since I've finished up edits on Netwalking Space.