As always, going to Missoula for MisCon was an excellent experience. Not everything involved science fiction and writing. We  found the new Preston Wine Cellars store (and purchased some wine, though the port is no more, alas).
Because of the clear, sunny weather on the way over, I got some incredible pictures. Here's a short sampler: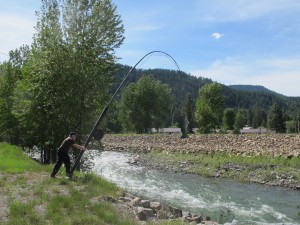 (Hubby playing around with a sculpture)
Kootenai Falls.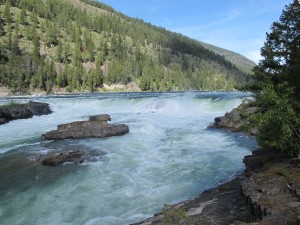 We ran up to Whitefish Lake when we got into town rather than check in, and I got some really nice shots of the lake, as well as a couple of folks flyboarding. I'd never heard of it before, so watching it was pretty fascinating.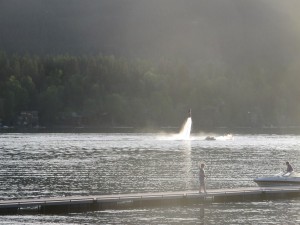 And because it was a clear, sunny, warm day, we actually were able to use the outdoor hotel pool.
On the way to the con from Whitefish, we spotted a buffalo bull who'd just gotten up from a wallow, still coated in dirt. It was right on the edge of the bison reserve, and there was no good place to pull over to take a picture. This is a theme which will be repeated.
At the con, I observed part of a plotting session using the Tarot, but had to bug out due to packing for leaving the next morning. I had fun in my panels, and I think my fellow panelists did too. I had to recruit help when it turned out that everyone else on one panel was out sick, and the audience was too big for one panelist. At least if that panelist is me. But I had amazing friends who popped in to join me, and we had a vigorous discussion.
The writing critiques went as well as critique sessions go. Relatively uneventful and interesting concepts. Hopefully, the critiqued writers go on to do something with their work.
The hosting hotel for MisCon, Ruby's, doesn't have a bar, but just up the street is an Irish sports bar, The Stone of Accord, that has a decent menu and a rather nice selection of single malts, both Scotch and Irish. I finally got up the nerve to fork out for the Macallen Cask Strength shot, and a rather nice choice it was. That ended up being the choice libation as a bunch of us sipped from our glasses (one savors the Cask Strength, not chugs it) and discussed writing topics from figuring out plots to marketing to archeology to this and that and other things.
Since I was staying in a neighboring hotel, I hiked over to the con every day and got to inhale the glorious scent from this lilac hedge along the parking lot: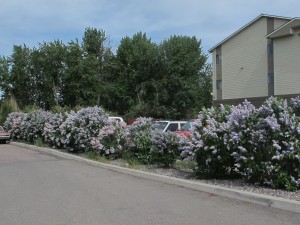 Of course, I swooned over pink and light lavender and dark lavender lilacs. There weren't any dark purples or whites, alas. But the warm weather brought out the strong sweet perfume of the lilac blossoms, and I loved it every time I walked by.
Because hubby had to go back to work today, we left early on Monday to come back, missing the last day of the con. However, about thirty miles west of Spokane, right next to I-90, near a little snowmelt pond, we spotted a big moose circling round at a trot to catch a glimpse of something that had startled it. We giggled about "moose in the Palouse" the rest of the drive home.
I had this day off so I had time to rest and recover from driving all the way back. Sixteen more days.
Sixteen more days until I'm freelance again. Yay?