In Western Oregon winters, going out in the woods on a forty-degree day means dealing with damp drizzle and cold.  Lots of wool and polypro under water-repellant wear.
We spent some time helping a fri
end of ours with a downed tree down in the bottom of a wet patch on his land.  He burns the wood for heating so it needed to come up to the woodshed to dry.  The rounds were pretty big so the DH and our friend spent time with splitting mauls to break up the rounds.  Then they hauled it up the short but steep hillside to the flat, and over to the woodshed.
We did have company.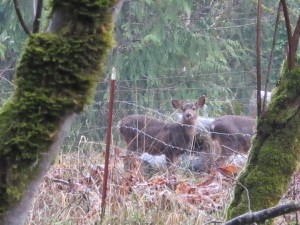 Two fawns and a doe hung around the edge of the woods for a while.  They'd all been lying down in the field when we first went down, then got up and browsed around the edges while the guys worked.  Eventually they wandered on.  The little guy in the center here is a little buck, I think, based on his build and general attitude.  Does tend to be shier even from a young age while bucks tend to try to approach humans or at least get into a position to figure things out.
Just another December woods day.  We'd thought about skiing today, but after last week, and the amount of loosely packed stuff dumped on the hill, I think I'm riding instead.  Which I need to get wound up and ready to do soon.
But first, a couple more pix.