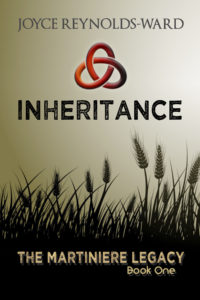 NOW AVAILABLE FOR PREORDER:

AMAZON: https://www.amazon.com/dp/B08JYJNN7B
APPLE, KOBO, BARNES AND NOBLE, AND OTHERS: https://books2read.com/u/b6ZNZ6
YOU CAN'T ESCAPE THE INHERITANCE OF THE PAST…OR CAN YOU?
Rancher Ruby Barkley and her ex-husband Gabe Ramirez are competing head-to-head for the AgInnovator game show's new one-shot award, the Ag Superhero. The winner walks away with $3.75 million per year for five years, with no accountability or need to re-earn the Superhero, unlike the Innovator's other awards.
But issues beyond those raised by their long-ago acrimonious divorce face Ruby and Gabe. Fence cutting. Rogue biobots destructively ranging beyond programmed parameters. Physical attacks. And the realization that they may need to reunite to save their son Brandon from indentured servitude.
Then the secret shadow of Gabe's hidden inheritance reveals itself. Will he step up to the Martiniere Legacy—and what role will Ruby accept in any future they may share?
Sign up at my newsletter here for more updates.