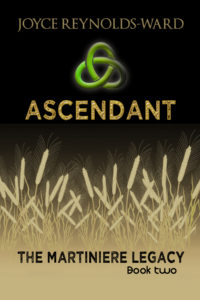 NOW AVAILABLE:
AMAZON: https://www.amazon.com/dp/B08KHNTKT9

APPLE, BARNES AND NOBLE, AND KOBO:https://books2read.com/u/bwd5Wy
WHAT DOES ASCENSION TO POWER REALLY COST?
Six months after the triumphant collaborative conclusion of the AgInnovator Superhero game show, Ruby Barkley and her ex-husband Gabriel Martiniere still struggle with the professional and personal fallout from their victory. The Superhero money allowed Ruby to launch her line of agricultural biobots. But one of the RubyBot spinoffs, the Defender, leads to unsettling revelations about crop tampering using body-modified indentured workers. Their son Brandon uncovers even more disturbing information about the abuse of indentureds as he campaigns to end it. All of these disclosures lead back to the Martiniere Group, the family corporation controlled by Gabe's malevolent uncle, Philip Martiniere.
Meanwhile, Ruby and Gabe wrestle with what form their resumed relationship will take, as Ruby contemplates whether she wants to take on the role of a Martiniere wife. The revelation that Gabe's father is not who they thought, and Philip's attempt to force Ruby away from Gabe once again confirms her decision. But the need to rescue one of Brandon's valued indentured informants turns celebration into catastrophe. Will Ruby and Gabe be able to recover from this disaster—or will Philip triumph yet again in his campaign to destroy Gabe?
Sign up at my newsletter here for more updates.