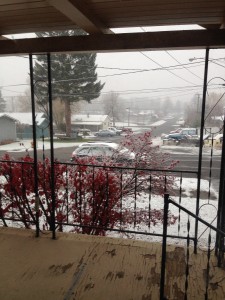 Woke up to this today, and it kept on coming. However, because things were right at freezing, even though the snow kept falling at this level, it also wasn't piling up above two inches. One of the first things I did was trek out to the barn to check on Miss Mocha because she hadn't gotten her winter shoes yet. That appointment is scheduled for this Friday, and I had been hoping that this storm would be like the others and warm up. Nope. She came loping up with the herd so things weren't too bad, though she was grateful for me picking out her hooves and spraying WD-40 in them to help stave off the worst of the ice balls. I thought she was shaking because of the cold for a moment but no, it's because she's been conditioned to equate getting caught with being fed grain. So she got a taste of grain (about a handful) and she settled with no shivering. Maybe she thought I was going to be crazy enough to try to ride her in this stuff. Nope, not if I don't have to. Then, when I turned her out, she trotted over to one of her friends and they pressed foreheads together, then she trotted off to join the other one. That mare…sigh. She doesn't like me taking Mocha away from her, so we Have Discussions. I suspect part of the issue is that this mare is still pretty lame (she's there for a pasture layup) and Mocha being Mocha, she's looking out for her. Or something.
Then it was back to home and prepping for book releases and an upcoming craft show. I laid out the plan for a novella in the Goddess's Honor series and wrote enough of the opening to insert into the back of Pledges of Honor. Hubby went into the attic to install insulation and I turned to cranking out inventory. When I first planned to participate in the show, I had been thinking about designing stuff. Not inventory. Then I realized I needed inventory, not just flashy design stuff. So. Today was cranking out pretty hanging things, not necessarily Christmasy stuff but things meant to be pretty. No idea if they'll fly, but I'm running several different lines for this show. Plus chapbooks. All of which needs to be done before Orycon, because we won't get back until just before the show. Yikes. I do need to plan things better…
There's so much that's been going on and it's been easier to throw a note up on Facebook than write about it. I interviewed for a long term temp job and didn't get it, but it was a good interview and I know why I didn't get the position (credentialing). That meant we had to adjust a Portland trip time for the flying trip back to do the interview. Then it was back to Portland and Clatskanie, to winterize the garden plus search out chanterelles. We ended up with three days of great mushrooming as well as piles of produce. For a first year garden it turned out pretty well, providing the bulk of vegetables for four households (all us old folks) from mid-July through the first part of November, as well as giveaways to others. And there's still onions, carrots, beets, and chard left. We froze some of the produce but ate most of it fresh.
I also have two books launching, one in November and one in December. Netwalk's Children drops the Monday before Orycon and Pledges of Honor in the first week of December. Production work is done on Children (hard copies will be available at Orycon) and work's mostly done on Pledges. Now it's just promotion (sigh).
Promotion and inventory creation. That's what I've got to do here. But for the first day of winter, with snow flying, we're settled in and stuff is happening.
And with that, I'm tired and off to bed.