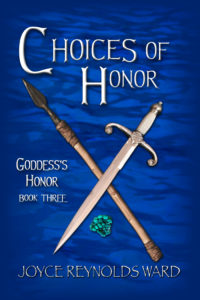 Wow. It's been a while since I've posted here. But I got seduced by Medium for a while, and I've had my head down working on Choices and now its direct sequel, Judgment of Honor. I have been keeping a journal, only on paper and not online. It's mostly a skygazing journal and notes on the writing of Judgment. It's rather along the lines of what John Steinbeck did when writing The Grapes of Wrath and East of Eden, only I've been doing it in the evening, sort of an unwinding and contemplative noodling about the day's work. It's been interesting and I've found myself referring back to the journal when starting the next day's work–a huge enhancement of my creative process. Which was something I really needed to be doing.
So anyway. Choices of Honor is now available in every ebook format, and there will be a hard copy once I get the cover for it. Everything else is ready to go.
Choices was an odd book to write. Over the last four years, when writing novels, I've developed a habit of creating a scene-by-scene outline noting what my major characters are doing in each scene. It's been really helpful in plotting and made rewriting less angst-ridden. Choices didn't choose to cooperate in that fashion. I could only outline about a quarter of the book, and then it flipped me the middle finger and told me I needed to start writing. So I did. Then, about halfway through Choices, I realized that I was not going to be able to stuff everything needed to wrap up the Goddess's Honor series in this one book. Not only did I have pacing and geographical issues, but there was just too much to be included in one book.
I started making notes about what needed to be included in the next (and final!) book of the series. I came up with a title, Judgment of Honor. I realized that a minor new character in Choices, Betsona, needed to be a viewpoint character in Judgment. After I wrapped up the first draft of Choices, I needed to go back through and insert necessary foreshadowing for Judgment.
But that came later in the rewrite process. Before I started the actual rewrite, I went to Summer Fishtrap and workshopped with Jamie Ford (Hotel at the Corner of Bitter and Sweet, Songs of Bitter Frost, Love and Other Consolation Prizes). While he's a literary New York Times bestseller, Jamie's also got strong roots in genre and has a number of genre short stories to his credit. The workshop…blew my mind, made me look at my process, and was just what I needed before revising Choices. I had set a publication date for late August/early September, unsure about how things were going to work. Probably a longer lead time than I really needed, but…it worked.
Meanwhile, at the end of July, I sat down to block out Judgment, then started writing it. By then I had a mostly-revised version of Choices, so all I needed to do was make the final tweaks on it to reflect minor changes and continuity with Judgment.
I like Choices. It's a solid book. It introduces Katerin's daughter Witmara as a character in her own right, and we learn a lot about Katerin's background in Waykemin–a fascinating place. But I'm also enjoying Judgment (and that is its own post!) and think it will be a solid ending to this set of stories. There will be more–the emergence of the Outcast God and the Divine Confederation in Choices and in Judgment demands spinoffs. Those will be their own series, though, not the Goddess's Honor.
So happy book day, Choices of Honor! And I promise, Judgment of Honor will be a December/January release.
Here's the details:
SOMETIMES VENGEANCE BECOMES MORE COMPLICATED THAN EXPECTED.
Avenging the death of co-Leader Inharise of the Two Nations appears straightforward at first for Katerin Leader and Rekaré Kinslayer. The curse that killed her points directly to the Witches Council of Waykemin. Therefore, they're responsible. But as Katerin and Rekaré lead a small avenging force to Waykemin's capital city of Formis, they discover that things are not quite as they seem.
At the same time, Waykemin's overseas ally, Chatain, Emperor of Daran, sends an invading force that Katerin's daughter Witmara must counter. But is Chatain's sortie a distraction from the attack on Waykemin, or does it serve a deeper purpose? Katerin must choose between her daughter and the challenge that Waykemin presents—and hope she made the right choice.
Kindle: https://www.amazon.com/dp/B07WXKLXHW
Other ebook: https://books2read.com/u/b6kKWA