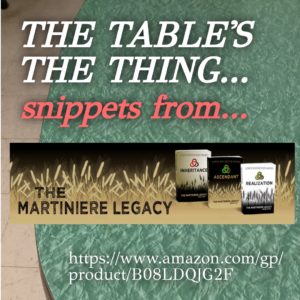 So in an attempt to kinda sorta get my promotional chops into gear, I'm trying to think of unifying themes that are part of my writing. Of course, as it turns out, the week I decided to kick it off was also a week full of Much Personal Life Craziness (which continues, somewhat). Not so much the Big Bad Stuff as it is just bits and pieces of weirdness and PITA stuff to manage at a time when it would be really helpful to be able to concentrate…oh wait, doesn't that sum up most of life post-March 2020?
The first thing that came to mind was food/eating elements in my different series. A few years ago, I took a writing workshop with Jamie Ford (Hotel at the Corner of Bitter and Sweet, Songs of Willow Frost, Love and Other Consolation Prizes). He suggested we write a food preparation sequence as a part of our character building process. Well, since I was working with a new character in the Goddess's Honor series, I wrote a sequence about her…which really expanded the series. She'll be a part of the new series in that world, Goddess's Vision. And since Goddess's Honor is the series I am going to try to showcase next week…well, I'll write more about it there.
Anyway. I wrote the Martiniere Legacy books after that workshop, and it has several food-related, plot-advancing scenes (as well as character-building sequences). One of the things that came out of that writing was the development of an inanimate third character of sorts–the green Formica and chrome, 1950s-era, kitchen table.
I happen to own one of those–it came with the Enterprise house, and it forms the background of the picture above. I grew up with one of those tables–only it was gray and white, not green and white. I used to stare at portions of that gray and white table and think I saw warhorses being ridden through a clearing. This was a very early memory, so I guess I was thinking about fantasy even as a little kid.
The table in the Martiniere Legacy, however. It's a gathering place at the Double R Ranch. In looking back at the series, including the slowly-proceeding Repairing the Legacy, that Formica and green table is somewhat central to a lot of what happens. Gabe's sister Justine likes to perch there when she's at the ranch–it's her favorite place to work. Gabe has heart-to-heart late-night talks with Ruby's grandfather Ron at the table. And more. If that table could talk….
Here's some snippets from the main Martiniere Legacy trilogy to give some idea of the range of discussions that happen at the kitchen table…
*******
Justine, Philip's daughter, sat at the old green Formica and chrome kitchen table, a bottle of whisky sitting next to her as she studied her screens.
"Don't you know only the lower classes drink straight from the bottle?" he said, just like Philip would say when he caught them doing something during their teen years that he considered to be déclassé and not worth of the high status of a Martiniere.
 From Inheritance—Outtake—Gabe
*******
 Morning brought swirls of fog over half-melting snow and ice on the ridges around the home place, but the mountains still stood out above the fog. Ruby soaked in the familiar, beloved views while sitting at the kitchen table and choking back a piece of toast and sipping a cup of fake coffee. Home. The craziness of the Innovator seemed to be very far away from her cozy kitchen with the view of mountains.
From Inheritance—Chapter Four
**********
 Ruby sat down hard at the kitchen table after Paul left, and buried her head in her hands again. Vickie patted her back.
"Beck," she called up the stairs. "Do you know where the good booze is?"
Beck thumped down the stairs. "No, but Charlie does. I'll go ask."
"I shouldn't be drinking," Ruby said into her hands. "I should be riding out there with them."
"No," Vickie repeated. "This isn't the Old West, and the Home Guard is here to protect you and the ranch. Let the pros do their job."
From Inheritance—Chapter Thirteen
*********
 Justine sat at the '50s-era green Formica and chrome table that had been Granma's pride, two screens shimmering in front of her as she talked to someone, voice only, typing on the virtual keyboard hovering over the table. She waved as Ruby entered the kitchen and pointed toward the coffeepot with a grin.
Real coffee, then.
From Ascendant—Chapter Three
********
 The welcome scent of real coffee wafting from the kitchen was a signal that Gabe's half-sister Justine was definitely at the ranch. As Ruby entered the kitchen, focused on the coffee, Justine was settled at the old Formica and chrome table, glowering at her screens. Her usual perch when she was at the Double R.
From Realization—Chapter Two
 *********
Ruby poured her coffee and sat across from Justine. "Things going okay? Hardly seen you since everything blew up."
Justine scowled. "Daddy dearest is outright pissed about your killing Joseph."
From Realization—Chapter Two
(And, as always, I flinch because I see two edits I should have made. Always. Always. No matter how many times, no matter how many eyes…always)