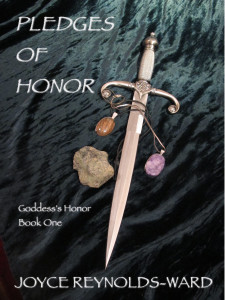 Here at last! Pledges of Honor, first in the Goddess's Honor series, is now out at Amazon and Apple iBooks, Nook, Kobo, Oyster, and others through Draft2Digital.
What's it about?
Well, here's the official blurb:
PLEDGES OF HONOR, the first book in the Goddess's Honor series, introduces us to Katerin, a wandering circuit healer seeking to avoid both her past and a prophecy that could mean her doom. But when the suicide of a village healer sweeps her into the intrigues of Gods and humans, she has no choice but to face past and prophecy to do what is right. Can Katerin forge an alliance with the dangerously attractive Metkyi, avoid the curses of her destiny, and help restore a hidden leader to her rightful place? Explore this high fantasy story with a non-European setting and strong female characters for something different!
A few notes about this book: it is based on a world I created way back in my high school years. I've been poking at this story for years and years, and finally found a means to enter this world after an editor rejected the short story that is now Chapter One with the comment "this reads like the first page of a novel." I realized she was right, and started writing.
But. When I tried to sell it to traditional publishers, it got a lot of "I like this story but I can't market it" comments. This was back in 2008ish, so I just put it aside and focused on other things. Then as a result of one of my stories being in an anthology that was an EPIC award finalist, I ended up selling the book to a small press.
Then nothing happened. The book fell through the cracks, and the publisher changed their emphasis to the degree that I would have needed to rewrite a significant subplot to meet their criteria. Thank God for a publication date written into the contract and a reversion clause. I got the rights back this summer, and, well…what wasn't marketable in 2008 might just be doable in 2015. But…I'm not waiting around on New York this time.
I also went for Draft2Digital for everything but Amazon this time. Amazon and I get along reasonably well these days (well, except for CreateSpace covers, which is why the CreateSpace version isn't ready yet). But…the others. Sigh. Smashwords makes me crazy any more, and I thought I would see how long it took for D2D to post books on Nook and Kobo as compared to what it looks like when I put them up myself.
Huh. Things processed through much more quickly through D2D, and D2D sends me updates as each distributor accepts the book. Okay, that was relatively painless. I'm pleased.
Anyway, here you are, the first installment in a high fantasy series with non-European settings and strong female characters. It's not an exact analog of our world because it's not meant to be. If it were, this would be a Weird West story. But it's not (I'm developing a Weird West variant kinda sorta. Still in very early development stages). You'll find lodges and longhouses, hot springs, ranches, farms, and sets of semi-nomadic cultures. The Seven Crowned Gods don't come from any particular pantheon but how they do things can be…interesting.
Enjoy!