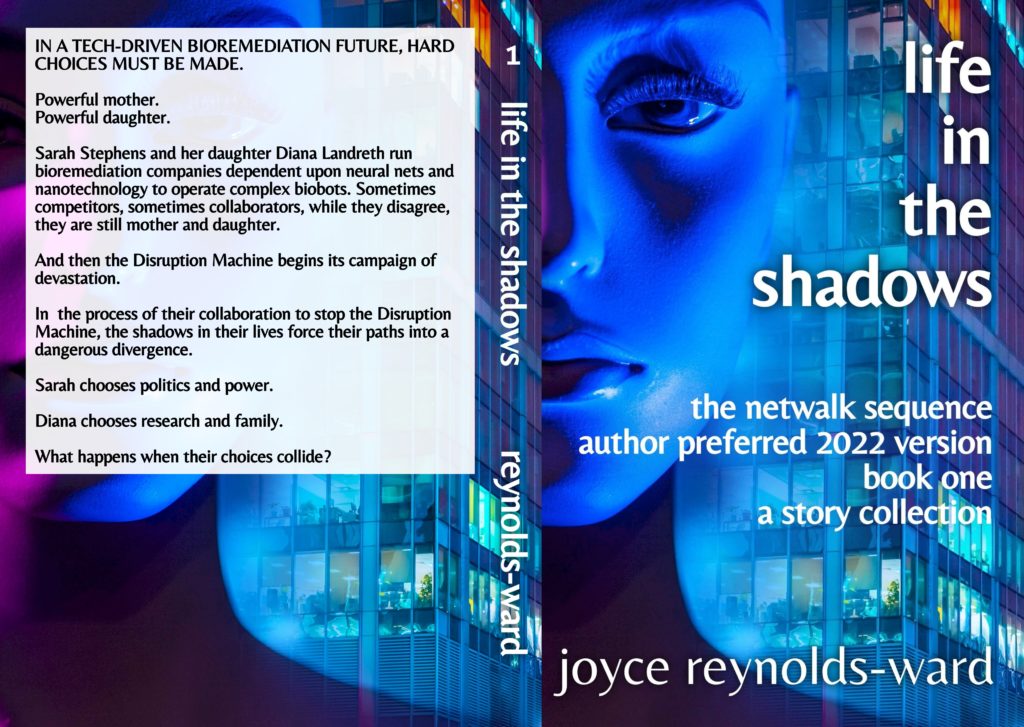 Well, darn it, I can't get the new version of Life in the Shadows to load correctly into Bookshop!
(If you see a version of it there with a different cover, it's the old version and no longer valid)
Oh well.
In any case, I Have An Announcement. All of the Martiniere books are now connected to Bookshop, so if you want to pick up a paperback copy of those books instead of the ebook version, it's now available if you don't want to go through the Big River. I've also organized the books by separate series, so they're easier to find.
As I finish loading the Netwalk Sequence books into Ingram Spark, I'll be adding them to the Bookshop listing.
And if you want to get Life in the Shadows in paperback, it's available on Amazon or Barnes and Noble. Soon as I get the Bookshop list fixed, I'll be adding that link. But don't forget, it's on sale for $2.99 at all ebook vendors.
At some point I want to talk about some insights I gained about the mother-daughter relationship by reading Marjorie Kinnan Rawlings's Blood of My Blood. It has some interesting perspectives on a parent who dedicates her whole life to ensuring her daughter has a better life than she does…only for said daughter to rebel and not marry as well as the mother had hoped.
But that's a big undercurrent of the entire Netwalk Sequence–the relationship between mothers and daughters, and how even the best intentions can skew awry. Especially when mothers and daughters are not just political but business competitors. While that sums up the relationship between Sarah and Diana (the breakdown of which we see happening in Shadows), to some extent we see it with Diana and Melanie as well. Melanie and Bess, however, start trying to break the pattern. Can they do that, while dealing with all of the curveballs that come along with digital personality uploads, the Gizmo, and the schemes of the family matriarch who has a bit of power remaining to her, even as a digital personality?
Writing these shifting allegiances was…interesting. I keep muttering that it's a darn good thing that my stories so far haven't shown a tendency to jump worlds. That could make for some interesting fanfic, however–what would happen when Sarah Stephens meets Philip Martiniere (and which version of Philip is also relevant, since The Cost of Power is starting to reveal some interesting possibilities when Philip is not a total villain)? I have a feeling Sarah would eat the villainous version of Philip alive, simply because he's so similar in many ways to Francis Stewart, who betrayed her. Except that Francis is more playful and fun than Philip, even when he turns toxic. Villain Philip is toxic, entitled, lacks a sense of humor, and would dearly love to be Emperor of the world. Sarah would just laugh in his face while dethroning him, either if they were both alive or in their forms as digital personality upload and digital thought clone.
Ruby wouldn't face any romantic competition from Diana, Melanie, or Bess because Gabe is completely enthralled by Ruby. And despite their similar ranch origins, I don't think Diana and Ruby would have a lot to say to each other. Nor Melanie, nor Bess. Ruby would be at best a colleague and business competitor, not a collaborator. She might collaborate with Sarah, but Sarah's dark side would be a significant deterrent because Ruby is straightfoward and doesn't care to play the manipulative games that Sarah enjoys. That would be the drawback for Ruby with any of the Netwalk Sequence women. Sarah, Diana, Melanie, and Bess are more manipulative than Ruby, and Ruby wouldn't have much time for that.
Justine, however…she would probably have a good chat with Sarah. If those two started scheming, watch out! That said, as characters, both Justine and Sarah exhibit a tendency to keep their cards close to their chest and not communicate to me. I think I'd classify them as my Trickster characters. Both exhibit the ability to come out on top and overcome any setbacks that get thrown at them. I could see those two working together toward a common goal that benefits a lot of people, while advancing themselves.
Ah, the possibilities. Not that I intend to write them any time soon, just because I have other things to do. But Philip meeting Sarah, or Justine meeting Sarah?
Hmm. Hmm.