Introduction to The Netwalk Sequence
"What if you could experience soaring over Hells Canyon through a hawk's eyes?"  my husband asked during a lazy summer's camp trip, well over twenty years ago.
That question began the thought processes leading to The Netwalk Sequence.  I started playing with the idea, researching telepresence and neural nets, then ended up yanking some of the political stuff I'd been involved with into the backstory.  I'd already been playing around with a novel about a political activist, Sarah Andrews, who'd gotten sucked into an impossible dilemma and been forced into making compromises that changed her life.  There was a dark side to Sarah that needed further exposition, and the more I looked at the telepresence concept, the more I thought extending her story into the future made sense.
And so this is it.  The Netwalk Sequence is a ski bum neuropunk romantic adventure family saga.  It's not going to be for everyone…but if you're into a multi-generational SF neuropunk romantic suspense saga, with–ahem–skiing–it might just be the thing for you.
Now Available:
(Listing in series order, not publication order)
Life in the Shadows: Diana and Will
LIFE IN THE SHADOWS chronicles the struggles of Diana Andrews and Will Landreth to overcome parental, professional, and political obstacles to their relationship. Can Will ever win free from the shadows he collected when designing and programming war machines for his father? Can Diana establish her own bioremediation company independent from her strong-willed, controlling mother who has behind-the-scenes political ambitions? What happens when a greater threat begins to emerge? LIFE IN THE SHADOWS includes the three previously published stories; DAHLIA, WINTER SHADOWS, and SHADOW HARVEST. New in this volume is CHRISTMAS SHADOWS, the opening to The Disruption Series.
Lucifer Has Fallen: A Disruption Chronicles Short Story
When Sarah Stephens's lover Francis Stewart starts a drunken rant about "Lucifer has fallen" in connection with the mysterious city-destroying Disruptions, Sarah thinks he's just had too much to drink…until the next morning, when another Disruption strikes and Francis is nowhere to be found.
Buy it at: Amazon
Valentine Disruptions: A Disruptions Chronicles Novelette
Between work, family, and national security obligations, it's been years since Diana and Will Landreth have been able to plan a romantic getaway. Now they're finally escaping…but the Disruption Machine crosses their path. Will they be able to capture the Machine and still have a romantic moment?
Buy it at: Amazon
Netwalk: Expanded Edition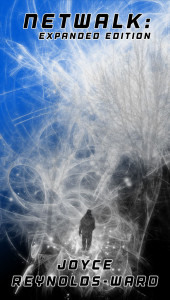 "Sarah said she had Ness Ryan working on a project-"
"Just the Netwalk stuff," Marty said.
"Then Netwalk may be an attempt to control Gizmo," Diana said. "Which means we need to control it. We need to control Sarah as Netwalker and keep Peter away from it."
For seven years, Melanie Landreth has maintained a lonely outpost in the Pacific Northwest while fighting a shadow war against the oppressive government controlled by her grandmother Sarah Stephens. Then her grandmother's death launches a cascade of events, including the discovery of a new virtual technology, NETWALK, which allows personalities to fully upload to digital life when their bodies die. As her mother Diana steps forward to wrest political power during the government collapse, Melanie must help her gain control of NETWALK–and discovers the existence of the mysterious device that NETWALK was created to control. With the help of Marty Fielding, Melanie strives to wrench control of NETWALK from opponents within her own family–and finds that she's not as alone as she once feared. But what alliances can she trust in a swiftly changing world? What is Gizmo? How can she best protect her family, her business, and her loved ones in the face of an uncertain future?
Buy it at: CreateSpace, Amazon, Barnes and Noble, Smashwords, Google Play, Payhip, and your local bookstore
With her mother Diana firmly in charge of the new North American Federation, her uploaded grandmother Sarah settled into Diana's NETWALK chip, and her ex-fiancé Liam safely dead and no longer a threat, Melanie should be able to focus upon her new role as president of Do It Right, International.  But…after a miscarriage and disastrous ski accident, Melanie discovers that Liam has also uploaded as a Netwalker.  Worse, he's somehow connected with Gizmo, the mysterious device that caused a series of international environmental and political disruptions over forty years ago that killed a third of the world's population.  Gizmo has been constrained by the Corporate Courts, the secretive international corporate alliance that is now admitting Melanie to its Executive Council.  But the price is a biological heir of her own body–and Liam, as Netwalker, has found a means to prevent this.  Plus Gizmo is stirring in dangerous ways that suggest it's breaking loose again.
Can Melanie manage to overcome the schemes of Liam and Gizmo to keep Gizmo from wreaking havoc on the world yet again?  Can she thwart Liam's schemes to keep her from having a baby and protect that baby from Liam and Gizmo?  And dare she trust her mother's secretive plans, or does she need to form a tentative alliance with Sarah the Netwalker and her estranged brother  Andrew in order to protect herself, Marty, and their child?
Buy it at: CreateSpace, Amazon, Barnes and Noble, Smashwords, Google Play, Payhip
Netwalk's Children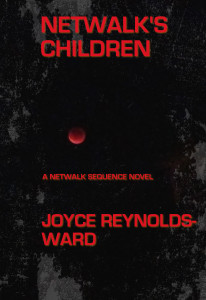 The mysterious war machine device known as the Gizmo is getting restless and trying to use Melanie's daughter Bess and her nephew Richard as a means of escape from its confinement. Meanwhile, problems arise with potential rogue Netwalkers tied not just to Melanie's past but to her parents and the original capture of the Gizmo. Can Melanie work with her estranged Netwalker grandmother Sarah as well as Bess to stop the Gizmo and deal with past shadows that threaten to dominate Bess's future?
Buy it at: Amazon, Nook, iBooks, Kobo, Payhip

Tranquility Freeriders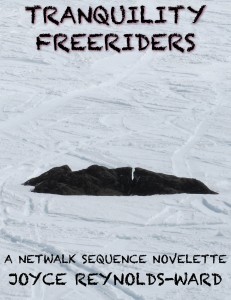 Tranquility Moonbase Chief Jennie Spenser has a problem. Not only does she have to deal with emergency transport but she has to manage some lively trainees who are convinced that skis may be the answer to her problem…including Marty and Melanie's daughter Bess.
Buy it at: Amazon, Barnes and Noble, Smashwords
Of Archangels and Fuzzy Green Mascots
When a bomb disrupts operations at the space station DIR 1, Bess Fielding and Alex Jeffreys discover it's not just an act of ordinary sabotage but an attempt by the mysterious Gizmo device to escape confinement. Can Bess and Alex stop Gizmo and find the saboteur before it's too late?
Buy it at: Amazon